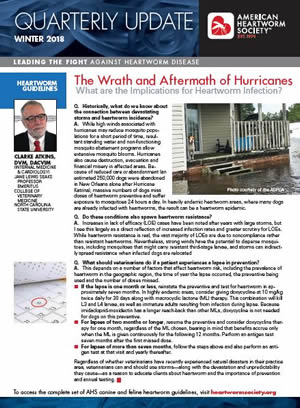 What are the Implications for Heartworm Infection?
by Clarke Atkins,DVM, DACVIM
Open/Download Quarterly Update as PDF
Q. Historically, what do we know about the connection between devastating storms and heartworm incidence?
A. While high winds associated with hurricanes may reduce mosquito populations for a short period of time, resultant standing water and non-functioning mosquito abatement programs allow extensive mosquito blooms. Hurricanes also cause destruction, evacuation and financial misery in affected areas. Because of reduced care or abandonment (an estimated 250,000 dogs were abandoned in New Orleans alone after Hurricane Katrina), massive numbers of dogs miss doses of heartworm preventive and suffer exposure to mosquitoes 24 hours a day. In heavily endemic heartworm areas, where many dogs are already infected with heartworms, the result can be a heartworm epidemic.