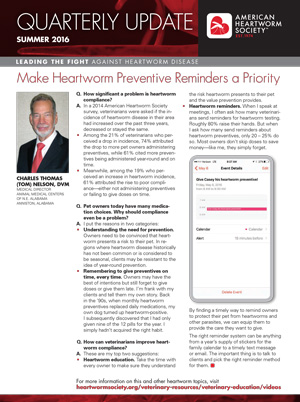 by Charles Thomas (Tom) Nelson, DVM
Open/Download Quarterly Update as PDF
Q. How significant a problem is heartworm compliance?
A. In a 2014 American Heartworm Society survey, veterinarians were asked if the incidence of heartworm disease in their area had increased over the past three years, decreased or stayed the same.
Among the 21% of veterinarians who perceived a drop in incidence, 74% attributed the drop to more pet owners administering preventives, while 61% cited more preventives being administered year-round and on time.
Meanwhile, among the 19% who perceived an increase in heartworm incidence, 61% attributed the rise to poor compliance— either not administering preventives or failing to give doses on time.